PRIMARY SERIES INTENSIVE 2022
Join David Robson and Jelena Vesić at Ashtanga Yoga Centre of Toronto for a 40-hour practice and study Intensive focused on the Primary Series of Ashtanga Yoga, from July 2 - 9, 2022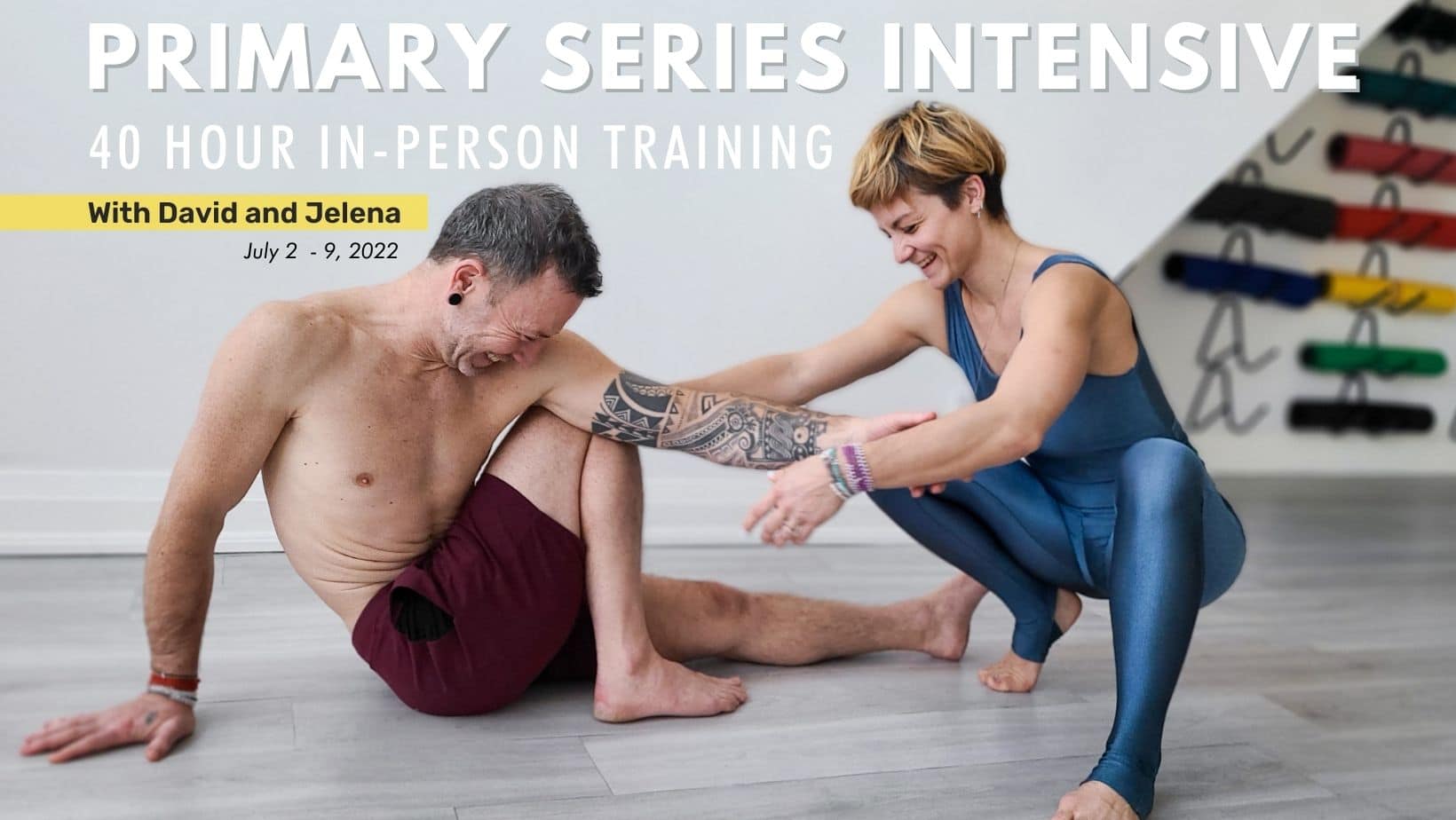 This Primary Series Intensive is all about learning the proper technique and traditional vinyasa count  for Ashtanga's Primary Series.
Apply For The Primary Series Intensive Below
THIS COURSE IS FOR YOU IF YOU WANT TO:
Study each pose of the Primary Series in more details
Learn the count for each pose in the Primary Series
Increase your understanding of the Ashtanga Method
Begin or continue your exploration of Yoga philosophy and theory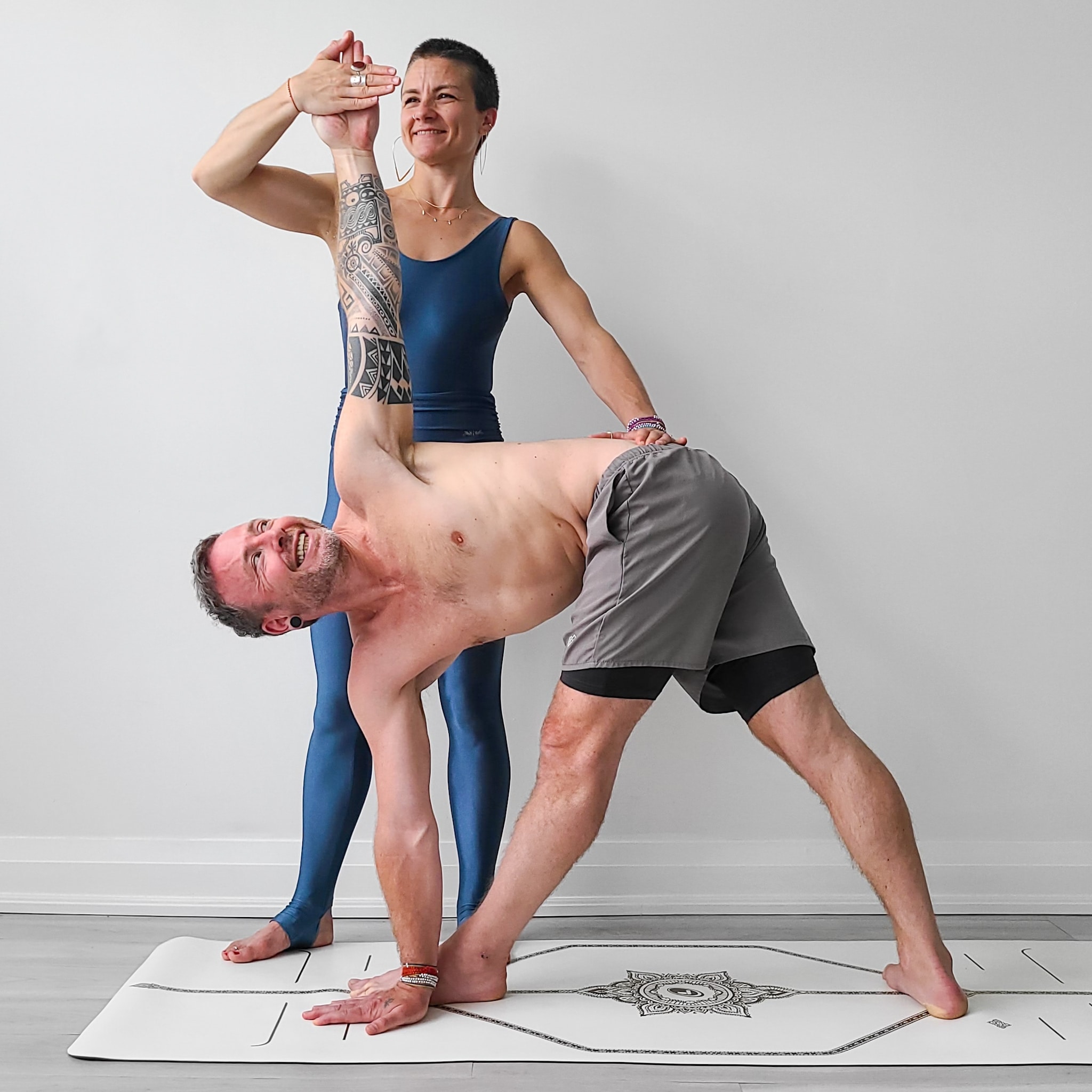 Students Reviews
"The assisting school was very good and definitely worth taking even online: lots of clear and precise information on how to assist and I really enjoyed the anatomy with Arielle who is an amazing teacher and the mindfulness with Sandra. David and Jelena support students in their practice and give them confidence to assist and adjust (and this is not easy with an online course.) All their courses are well thought out, interactive , comprehensive and FUN." - Cecile Payne (2020 Assisting School Student)
"It was amazing to finally be able to take this course with David and Jelena. They have assembled a full curriculum with amazing teachers to take you deeper into your own understanding of the practice and to give you the confidence to share this knowledge with others.  The information is presented in multiple ways from David and Jelena's experience in the Shala, Arielle's insightful functional anatomy, and the psychotherapy perspectives offered from Sandra. I highly recommend this course to anyone looking to deepen their practice, strengthen their teaching, or looking to connect more deeply to the lineage of Ashtanga Yoga." - CJ Fritts - Assisting School 2020 Student
"Besides great structured classes, clear guidance, dedication in sharing knowledge and experience, patience in answering all of your questions, I'm deeply grateful and inspired by the care, support and kindness of teachers and all AYCT team.  Special thanks to Meghan for organizing informal study group classes and extra practice time." - Manuela Kan  (2020 Assisting School Student)
"Assisting School Online 2020 is a well-structured and comprehensive course perfect for Ashtanga teachers and those wishing to deepen their practice. David and Jelena are clear, patient, and passionate teachers whose love of yoga is apparent and contagious (in a good way). Taking this course was a truly rewarding and enriching experience. I have grown as an Ashtangi and as a person." Jessica Murphy (2020 Assisting School Student)
Each day will be based around morning mysore-style or led practice with David & Jelena. Afternoons will be devoted to workshops in:
Learning the vinyasa count for the Primary Series

Alignment and conditions of postures

Philosophy and theory of Ashtanga Yoga and The Yoga Sutras

Sanskrit in the practice

Asana clinics

Diet and nutrition for practice
COURSE RECOMMENDED READING LIST
Yoga Mala by Sri K Pattabhi Jois
Ashtanga Yoga Anusthana by Sri R Sharath Jois
An Ashtanga Intensive Workbook (will be included in the cost of the workshop)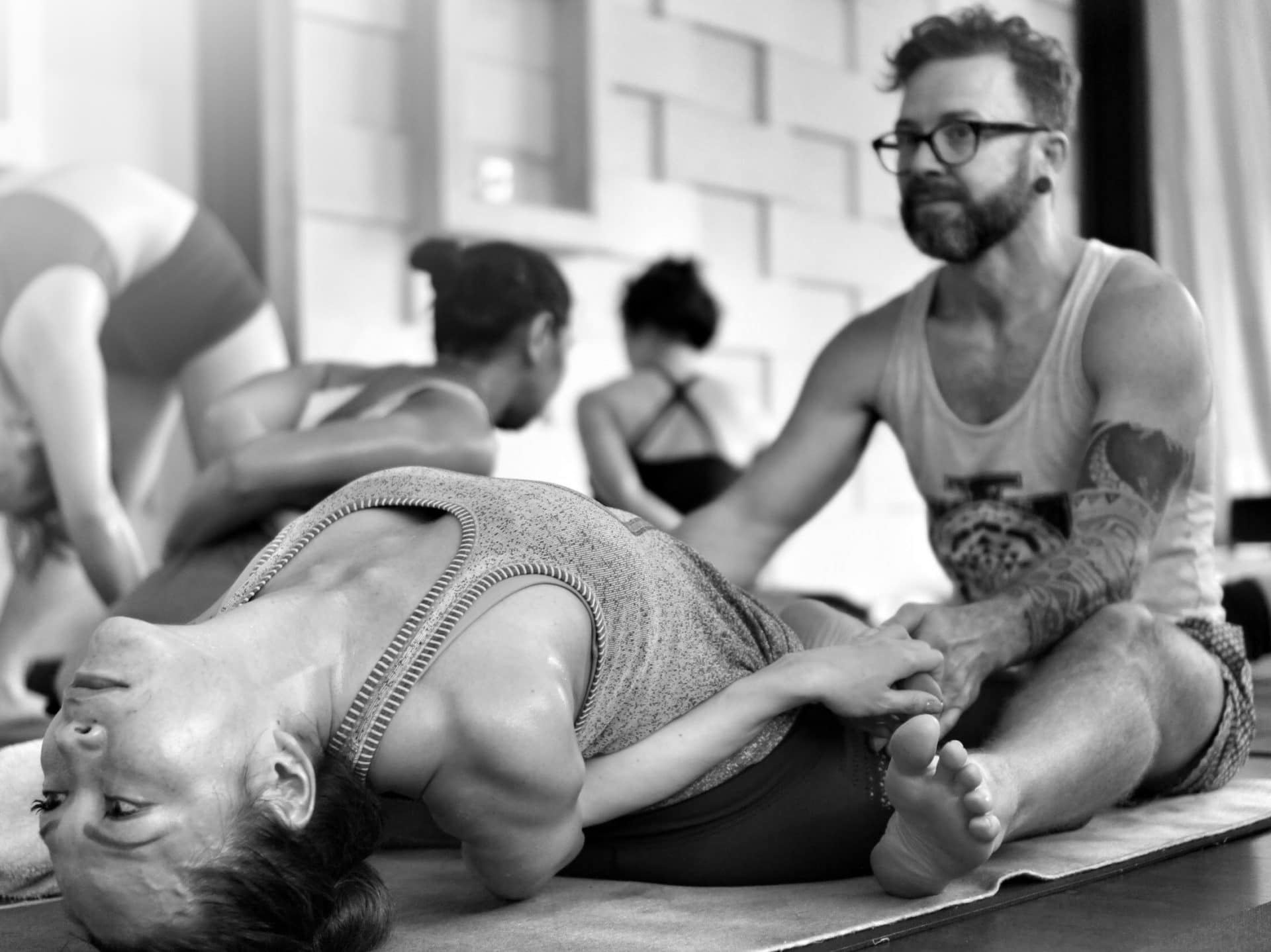 Program Tuition Includes:
40 hours of instruction

Unlimited AYCT membership for the duration of the course

Primary Series Intensive Workbook

CYA certificate of completion (40 hour cont. ed)
*Travel and accommodation cost is not included.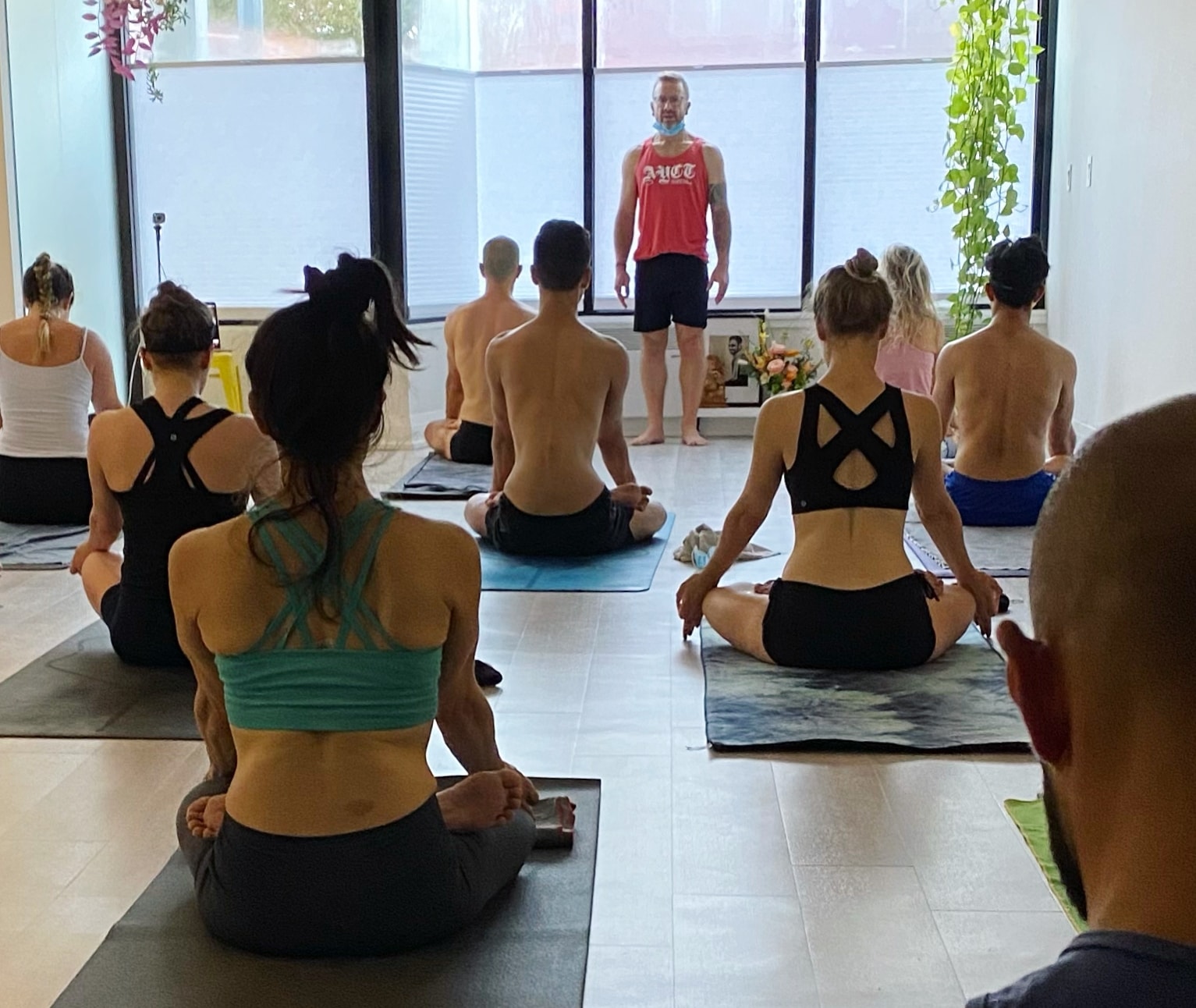 Primary Series Intensive Tuition
$850 +HST
Pre-registration is required. Full payment is required to reserve your spot in the course. There will be a 20% administration fee on refunds for cancellations made before June 15, 2020. There are no refunds or credits granted for cancellations made on or after June 15, 2020.
For both Primary Series Intensive & Assisting School: $2900 + HST(13%).
David Robson is a practitioner and teacher of Ashtanga Yoga, in the tradition of Sharath Yoga Centre (SYC). David is the director of the Ashtanga Yoga Centre of Toronto, where he leads one of the world's largest Mysore programs outside of India.
David began a daily practice in 1998 while at university studying Comparative Religion. After graduating, David made his first trip to Mysore, India in 2002, where he initiated studies with his teacher Sharath Jois. Since then he has returned to Mysore annually to deepen and enrich his practice and teaching.
In 2007, David was Authorized to teach Ashtanga and now holds a level 2 authorization.
After four years of doing her PhD (Political Science, York University, Toronto), Jelena decided to walk away and dedicate herself to teaching Ashtanga Yoga full time. She's been teaching since 2014, and is now leading the evening Mysore program at AYCT. Alongside her husband, David Robson, Jelena teaches workshops and retreats in Toronto and around the world.
Jelena first came to yoga through dance. As a former ballet dancer of 16 years, the structure and rigour of the Ashtanga Yoga practice felt like home. Drawn to the discipline, mindfulness of the movement and emphasis on the breath, Jelena made the Ashtanga practice her sole focus in 2009.
Jelena has maintained a daily Ashtanga practice for over a decade. She's made two trips to Mysore, India to study with her teacher, Sharath Jois. In addition, Jelena also considers herself to be a student of Jack Kornfield, a Buddhist teacher and clinical psychologist. She's completed his and Tara Brach's "The Power of Awareness" course, and is now enrolled in their two-year Mindfulness Meditation Teacher Certification Program.
Lastly, Jelena's true passion lies in promoting rescue and adoption of (street) dogs. You can often find her sharing her love for #adoptdontshop on her IG, and sharing the joys of living with her two fur-babies, Boksoon and Khani, both celebrities in their own right.