Enrich your understanding of the traditional technique and philosophy of hands-on adjustments and alignment principles during our 3-week Assisting School Intensive from July 11 - 30, 2022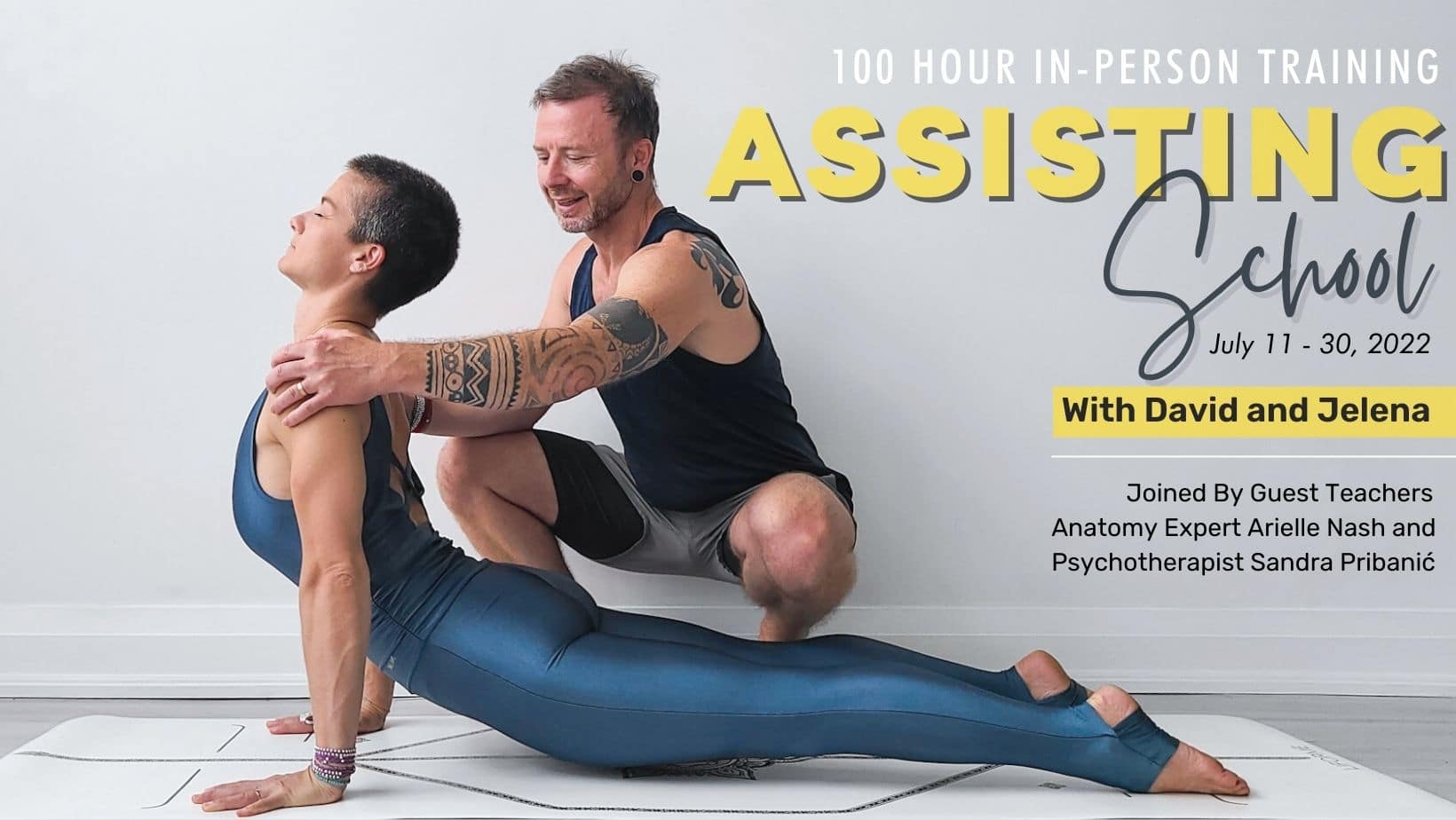 Assisting School is an immersive program carefully created with an aim to communicate a thorough knowledge of the specific adjustment, anatomy and listening techniques that we use when assisting in a Mysore room.
Apply For Assisting School Below
THIS COURSE IS FOR YOU IF YOU WANT TO:
Feel more confident when giving safe hands-on adjustments
Learn how to give/receive clear and correct alignment cues
Increase your knowledge of yoga anatomy
Explore new ways to communicate effectively as a student/teacher in the Mysore room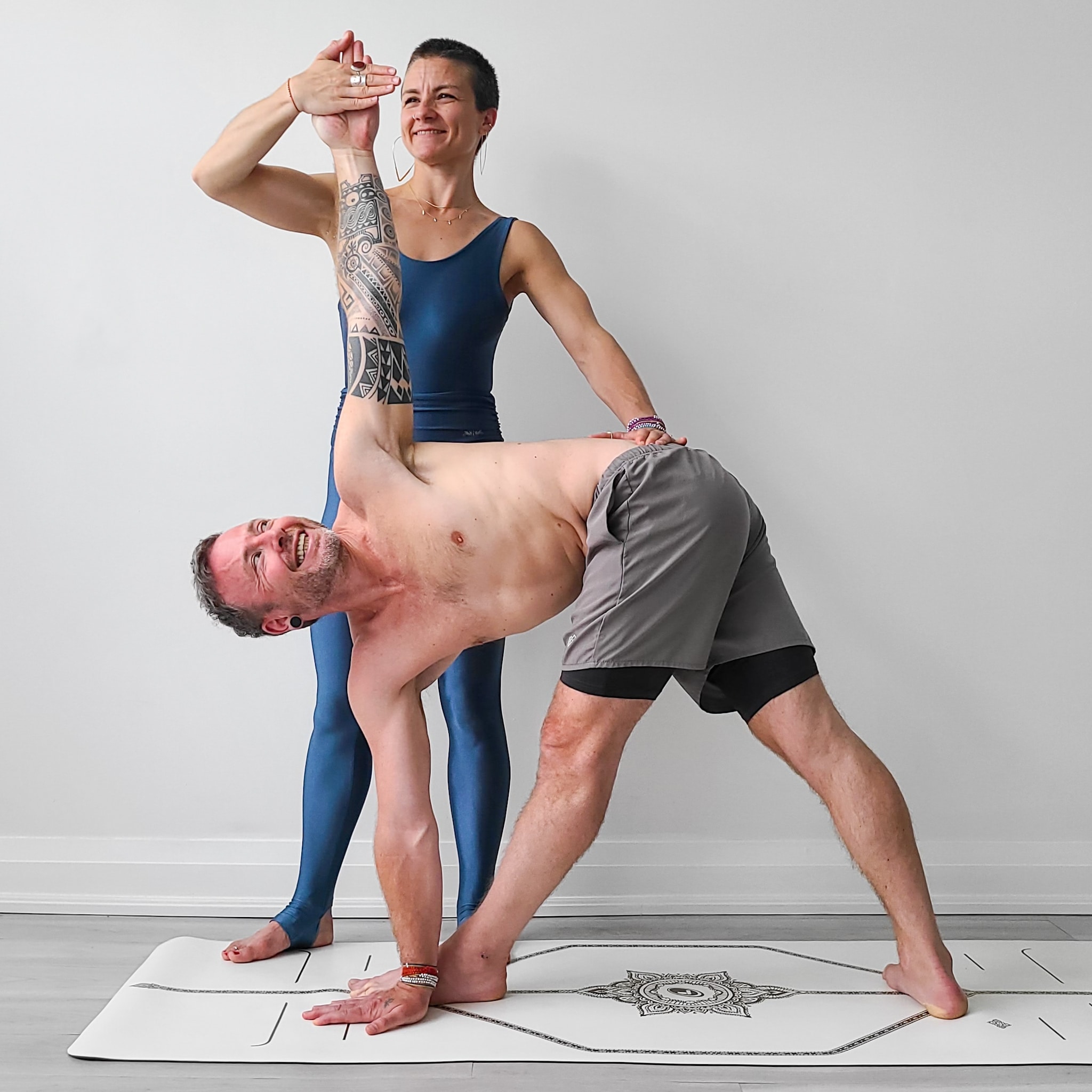 Students Reviews
"The assisting school was very good and definitely worth taking even online: lots of clear and precise information on how to assist and I really enjoyed the anatomy with Arielle who is an amazing teacher and the mindfulness with Sandra. David and Jelena support students in their practice and give them confidence to assist and adjust (and this is not easy with an online course.) All their courses are well thought out, interactive , comprehensive and FUN." - Cecile Payne (2020 Assisting School Student)
"It was amazing to finally be able to take this course with David and Jelena. They have assembled a full curriculum with amazing teachers to take you deeper into your own understanding of the practice and to give you the confidence to share this knowledge with others.  The information is presented in multiple ways from David and Jelena's experience in the Shala, Arielle's insightful functional anatomy, and the psychotherapy perspectives offered from Sandra. I highly recommend this course to anyone looking to deepen their practice, strengthen their teaching, or looking to connect more deeply to the lineage of Ashtanga Yoga." - CJ Fritts - Assisting School 2020 Student
"Besides great structured classes, clear guidance, dedication in sharing knowledge and experience, patience in answering all of your questions, I'm deeply grateful and inspired by the care, support and kindness of teachers and all AYCT team.  Special thanks to Meghan for organizing informal study group classes and extra practice time." - Manuela Kan  (2020 Assisting School Student)
"Assisting School Online 2020 is a well-structured and comprehensive course perfect for Ashtanga teachers and those wishing to deepen their practice. David and Jelena are clear, patient, and passionate teachers whose love of yoga is apparent and contagious (in a good way). Taking this course was a truly rewarding and enriching experience. I have grown as an Ashtangi and as a person." Jessica Murphy (2020 Assisting School Student)
Adjustment Techniques- 33 hours
This section is the focus of Assisting School: gaining the tools to assist and adjust students. These workshops, taught by David Robson and Jelena Vesić will cover different techniques and options for assisting. The teaching will also focus on how to assist and support students with back, knee, shoulder and hip injuries and spotting issues that might lead to discomfort or pain.
Practicum; Assisting in the Mysore room- 9 hours
Under the guidance of David & Jelena, you will have the opportunity to use what you have learned in Assisting School in the Mysore room. Learning in the busy AYCT studio is excellent training in helping a variety of levels of practitioner, establishing trust, and problem solving adjustments. 
Practicum hours will be scheduled on the day of the first workshop and will consist of 6 x 1.5 hour shifts during morning and evening Mysore classes.
Ashtanga Practice with David and Jelena - 28 hours
All of one's knowledge for assisting and adjusting comes from one's own experience in their practice. Assisting School participants will attend daily Mysore-style and Led classes at AYCT.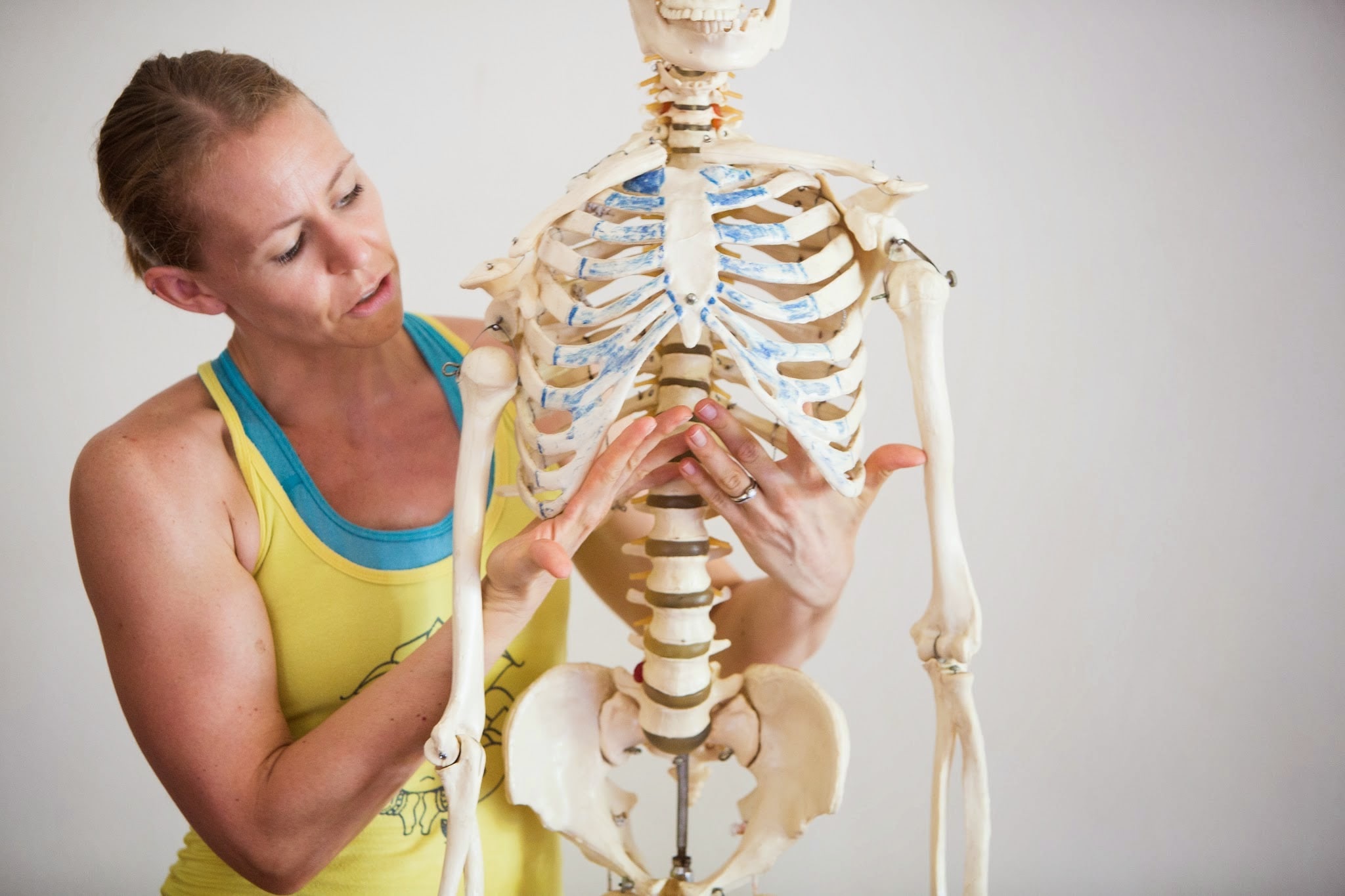 Proper knowledge of movement mechanics and integrated anatomy will help you to give safe and effective individual adjustments with confidence. This portion of the course goes beyond basic muscle and bone anatomy, covering all the body's systems and introduces the fascial lines. This segment provides a holistic understanding of how the body functions and responds to specific adjustments. This portion of the course will be taught by Arielle Nash.
Additional Skills in Listening and Helping- 9 hours
A unique part of Mysore style practice is the dialogue that opens up between teacher and student. Psychotherapist and Ashtangi, Sandra Pribanic, will lead a series of classes on creating a safe space for practitioners, exploring the mind-body connection, and using listening techniques to create awareness of student's needs.
Upon Completion Of This Intensive Program, You'll Have:
A deepened understanding of various adjustment techniques and modifications.
The ability to detect alignment mistakes and know how to correct postures both verbally and physically with precise cueing taught by David and Jelena.
An awareness of functional anatomy through training with expert Arielle Nash.
The skills to actively listen to and help students from exploratory sessions with psychotherapist Sandra Pribanić.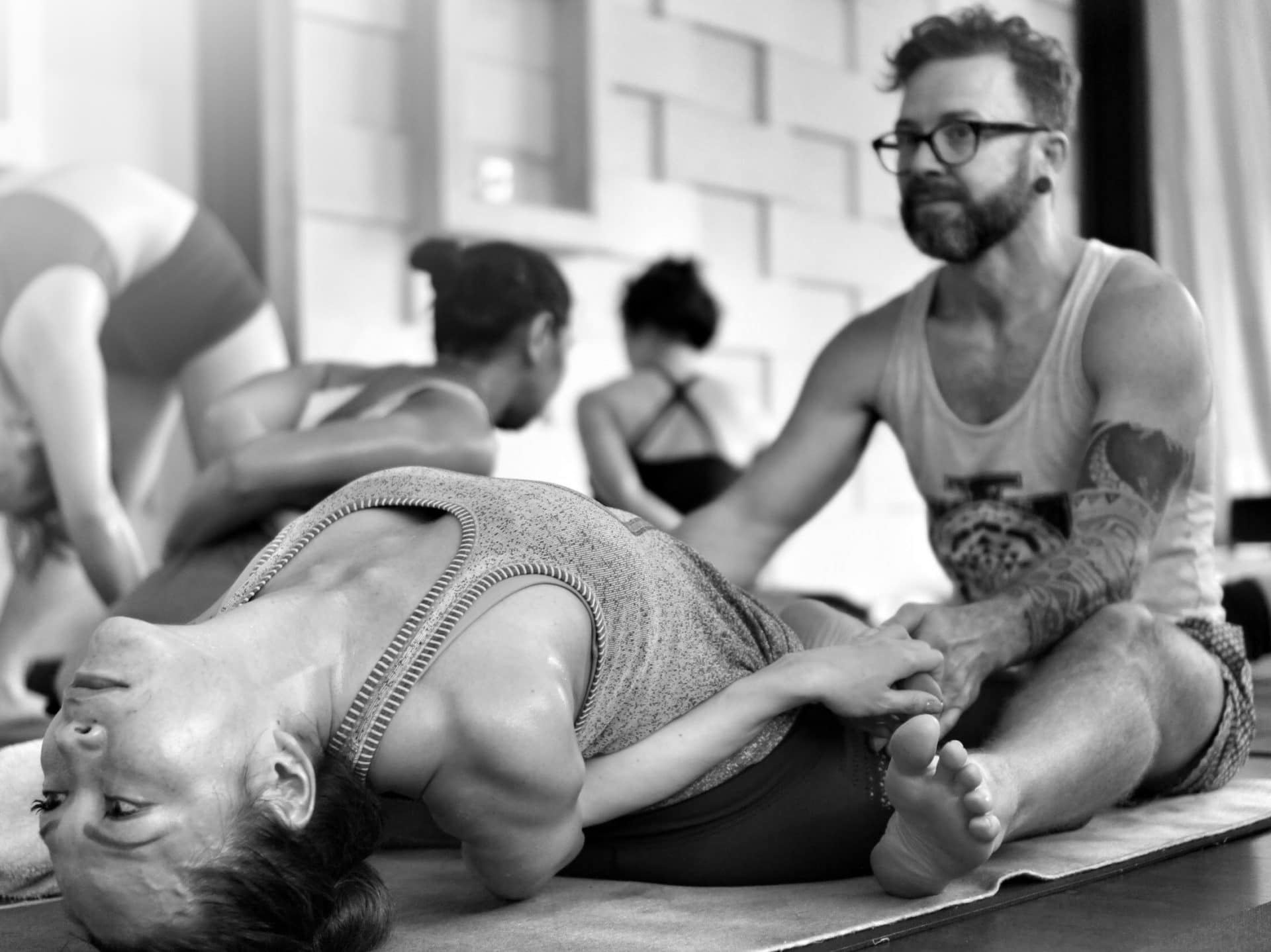 Program Tuition Includes:
100 hours of instruction

Unlimited AYCT membership for the duration of the course

Assisting School Manual PDF 

CYA certificate of completion (100 hour cont. ed)
*Travel and accommodation cost is not included.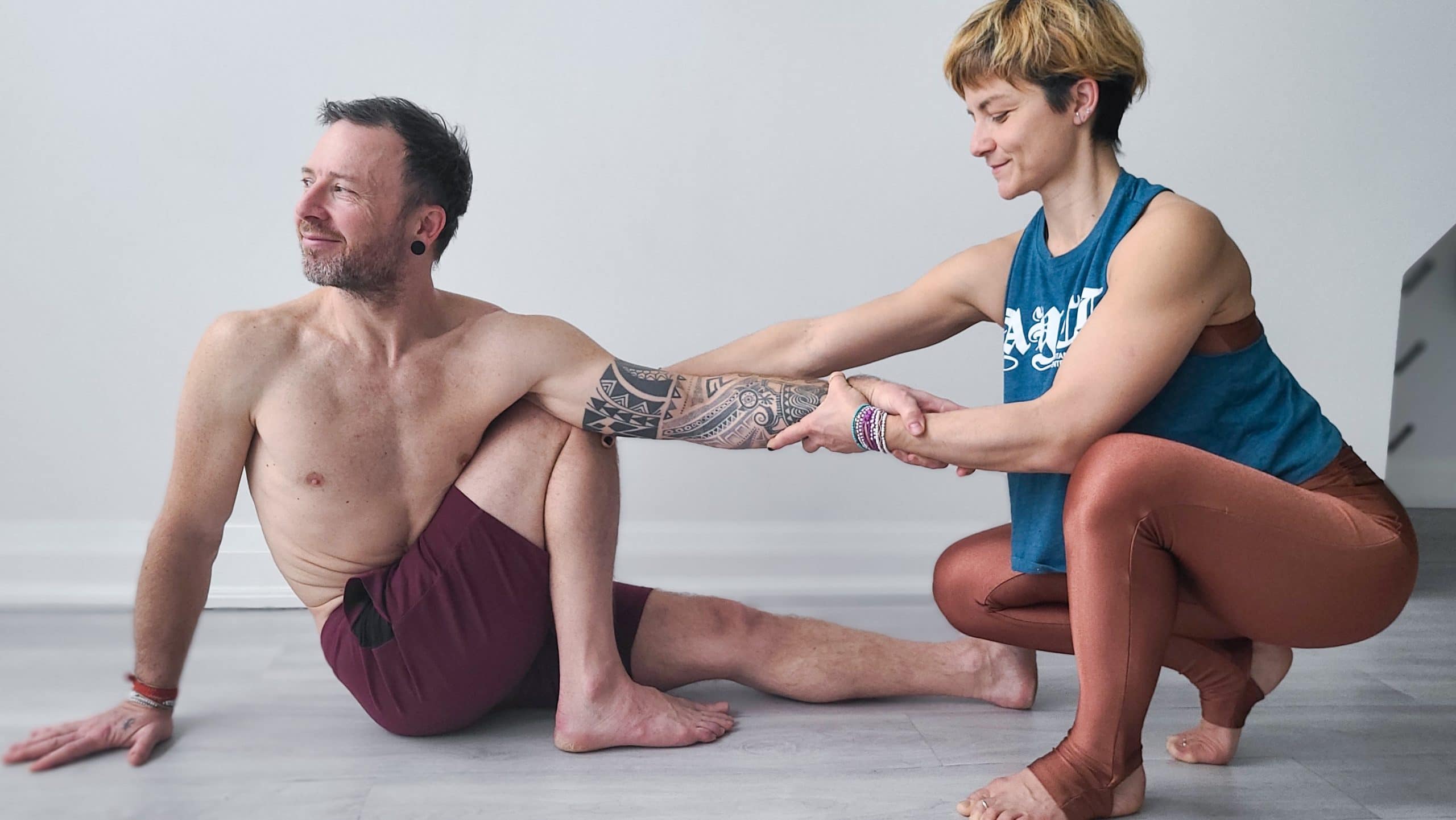 Assisting School Tuition
$2150 +HST
*Note: You must apply below prior to registration.
Prerequisites & Application:
Interested applicants must have completed a Primary Series Intensive with David Robson. Applicants must also have an established, daily Mysore-style practice.
To apply for the training, please complete and submit the application below.
A $500 + HST non-refundable deposit is required upon acceptance into the course.
Enrollment in Assisting School includes an Unlimited Membership to practice at AYCT for the duration of the training.
For both Primary Series Intensive & Assisting School: $2900 + HST(13%).
Pre-Registration is required. Full payment is required to reserve your spot in the course. There will be a 20% administration fee on refunds for cancellations made before July 6, 2022. There are no refunds or credits granted for cancellations made on or after July 6, 2022.
David Robson is a practitioner and teacher of Ashtanga Yoga, in the tradition of Sharath Yoga Centre (SYC). David is the director of the Ashtanga Yoga Centre of Toronto, where he leads one of the world's largest Mysore programs outside of India.
David began a daily practice in 1998 while at university studying Comparative Religion. After graduating, David made his first trip to Mysore, India in 2002, where he initiated studies with his teacher Sharath Jois. Since then he has returned to Mysore annually to deepen and enrich his practice and teaching.
In 2007, David was Authorized to teach Ashtanga and now holds a level 2 authorization.
After four years of doing her PhD (Political Science, York University, Toronto), Jelena decided to walk away and dedicate herself to teaching Ashtanga Yoga full time. She's been teaching since 2014, and is now leading the evening Mysore program at AYCT. Alongside her husband, David Robson, Jelena teaches workshops and retreats in Toronto and around the world.
Jelena first came to yoga through dance. As a former ballet dancer of 16 years, the structure and rigour of the Ashtanga Yoga practice felt like home. Drawn to the discipline, mindfulness of the movement and emphasis on the breath, Jelena made the Ashtanga practice her sole focus in 2009.
Jelena has maintained a daily Ashtanga practice for over a decade. She's made two trips to Mysore, India to study with her teacher, Sharath Jois. In addition, Jelena also considers herself to be a student of Jack Kornfield, a Buddhist teacher and clinical psychologist. She's completed his and Tara Brach's "The Power of Awareness" course, and is now enrolled in their two-year Mindfulness Meditation Teacher Certification Program.
Lastly, Jelena's true passion lies in promoting rescue and adoption of (street) dogs. You can often find her sharing her love for #adoptdontshop on her IG, and sharing the joys of living with her two fur-babies, Boksoon and Khani, both celebrities in their own right.
Arielle is a dedicated Ashtangi with over a decade of teaching experience. Holding a degree in Sport Science, extensive professional courses and certifications and following a career training pro athletes, Arielle is also well versed in anatomy, biomechanics and movement patterning, and she applies this to her teaching daily.
Over the last 10 years, she has had the opportunity to teach alongside, or study with highly skilled teachers such as David Robson, Richard Freeman & Mary Taylor, Sri OP Tiwari, Jeff & Harmony Lichty, Chuck Miller, and Prem & Rahda. Her primary teachers are Paul Dallaghan (Thailand), and R. Sharath Jois (Mysore, India), to who she travels annually to study.
She is the founder of the Ashtanga Yoga Research Project, who has conducted global research on Ashtanga, gender difference and injury. Arielle teaches continuing education courses for yoga teachers, focusing on women's anatomy, prenatal yoga (yoga for pregnant women), injury prevention and rehab, and adjustment techniques.
Knowledge is only rumor until it lives in your bones. (Asaro tribe)
Sandra found Ashtanga "by coincidence" in 2011, and has been inspired by daily practice since.
Her work is about exploring places where mind–body–heart–spirit can experience connectedness (however briefly!), about recognizing what moves and makes one alive, about creating space for what is loud inside (intense/difficult emotions) to quiet down, and what is quiet to get heard. Above all, about making space for all there is.
Sandra is a Registered Psychotherapist, with a private practice in Toronto. Her practice and teaching integrate body-centered, psychodynamic and transpersonal psychotherapy, craniosacral and energy work.