Do you struggle to stay accountable to your practice when your teacher is away? If so, keep reading.
Here at AYCT we are lucky to have two teachers who are called all over the world to teach. It means we get amazing guidance in our practice, our assistants have been trained by the best,  but it also means they have to leave us regularly.
*TEAR*
Not only is this very sad for us AYCTers, but it can make staying accountable to practice hard for some people – myself included.
So what do we do, when it feels difficult to show up on our mat in their absence?
Honestly, just take a break. When your teacher goes away, you should use that time to catch up on rest, skip poses, or not show up at all.
I hope you caught the sarcasm there.
You should obviously keep showing up, exactly as if they were there.
Now, having consistency in teachers is important – don't get me wrong – but I think this situation provides an interesting opportunity for practice that wouldn't be available to us if they were always there. It gives us an opportunity to observe our attachments and unconscious patterns around our teachers, and to ultimately move past them.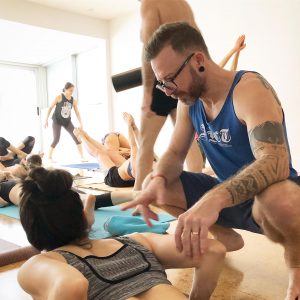 Why do we find it easier to show up when our teacher is around?
I don't think there is a one-size-fits-all answer to this, and it will vary from student to student.  But I will share my experience.
For me, there is a palpable energy in the room when David is there, that I'm convinced makes it easier for me to do the hard things in practice, and motivates me to show up.
His assists are the best, and I'm attached to how my backbends feel when he helps me.
And truthfully,  it feels easier to show up for David because I'm a little scared of him! Not because I'm afraid of what he'll do if I don't show up, but in an "I really respect you" kind of way.  Just so we're clear 😉
But really, on a deeper level, none of these things should matter.
Because this practice isn't about your teacher, or doing hard asana, or the energy of the room – it's about you. It's about showing up each day, and noticing the fluctuations of your body and mind; the fluctuations of the room are just another part of the practice. There is so much wisdom, and so much to observe when the energy isn't buzzing, and the asanas feel stiff.
In fact, I would offer that's where the transformation of this practice really lies. In the sometimes mundane, "low vibe" practices where you just want to quit, and don't have the external motivation of your teacher.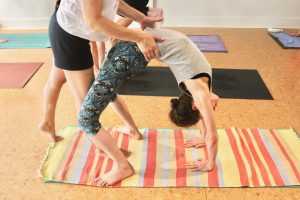 So if you want to experience that part of the practice, here are a few tips to help you stay accountable even when your teacher isn't here
Notice your habitual patterns
Pay attention. When your teacher leaves, do you find it harder to show up, or are you consistent? Do you find yourself doing less of your practice because you feel less motivated? It's not bad, or wrong, and doesn't make you a terrible person, but step one is noticing your patterns.
Be honest with yourself, and if this sounds like you, begin taking steps to show up, and do your whole practice even when they're gone.
Have someone hold you accountable
In the beginning, it might be helpful to have someone hold you accountable. Maybe it's another teacher at your studio or a practice friend. Accountability is important, no doubt, but all too often we may overly rely on accountability from our teacher.
Don't Practice for your teacher
Your teacher should motivate you, but they should not be the reason you practice. The role of the teacher or guru is to perhaps light the flame, but it's your job to keep the flame alive through daily practice – regardless of their presence.
At the end of the day, the illusion that you do this practice "for your teacher" might be helpful to get you on the mat, but ultimately, you practice for yourself, and your own spiritual development.
Cultivate Tapas
Practicing without a teacher, or when your teacher isn't around takes discipline. As much as we can use external forms of accountability, we also want to do the work to cultivate inner discipline or tapas.
Use the times when your teacher isn't around to work the muscle of self-discipline. Show up every day, even, and especially when you don't feel like it.
Having a teacher is important. We all need someone to guide us along this path. While consistency is important and helpful, the times when your teacher is away, provides an opportunity for practice in a different way.
Notice your attachment to your teacher, the stories you create about what is and isn't possible when they're away, and any patterns that appear if and when they leave. Begin to see this practice for what it is, a deep exploration of our inner landscape.
I hope you enjoyed this article!
Did you find these tips helpful? You can either comment below or share with us on Instagram @ashtangatoronto. We'd love to hear how it's helped your practice.
And if you're in the Toronto area, or will be soon, take a look at our schedule and upcoming workshops to see if you can join us!