There are some people out there who vehemently oppose Ashtanga, it's method and postures. They often suggest the poses are "too hard" for the average Yogi. Many of them suggest that Ashtanga by nature is Rajasic or "over-stimulating", and is therefore not an appropriate practice for everyone.
Now, I have an obvious bias. Here I am, writing this blog, practicing daily (or most days #momlife), and preaching Ashtanga to anyone who will listen.
I disagree with the naysayers not because I'm some blind devotee, or Ashtanga Evangelist or anything – but because this method works. I've witnessed the transformation in myself, and in others, and it pains me when I see people give up the practice, or not give it a chance at all.
Here's the thing, Ashtanga, in and of itself,  isn't really anything.
The system and method of Ashtanga is empty of any inherent quality. It's not easy, or hard, or rajasic in nature, or over-stimulating – it's just a mirror.
Let's break this down.
First of all, "hard" is relative. What's hard for me is perhaps "easy" to David or Jelena, or other seasoned practitioners. And what's hard for someone who is just beginning may feel "easy" to me.
The metric of what we consider "easy" is constantly shifting in this practice. When you commit to a daily Sadhana, you get to watch how the metric shifts. It's kind of cool.
Secondly, Ashtanga isn't inherently "rajasic" or over-stimulating either – It actually just mirrors the qualities you bring to it.
Think about your own practice. You don't show up the same each day, do you?  I know I sure don't.
Some days I show up, super Sattvic connected to my breath, super present, and I feel like a Yoga Goddess flowing through my practice with ease.
Other days I show up heavy, tired, lethargic, or Tamasic, feeling like a bag of bricks. My body feels stiff, and I move slowly and reluctantly as each vinyasa feels like I'm trying to pull myself out of quicksand.
And yup, some days I'm Rajasic, super intense, really dramatic throughout my practice and trying way too hard.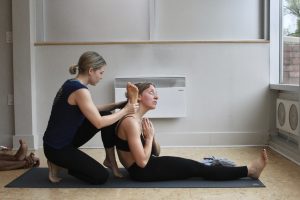 So what changed?
Did Ashtanga wake up and decide it was going to make things difficult?
Nope. I changed. And you change too.
 "Asanas are screens that reveal the impermanent nature of our thoughts and feelings." – DR
The circumstances in your life have you show up differently each day. Maybe something traumatic happens and you can't stop the negative stream of thoughts from entering your mind. Maybe something awesome happens and you feel lighter, happier, and stilling those vrittis comes easier. Or maybe you're stuck on a difficult pose that brings up deep feelings of inadequacy, which leads you down a rabbit hole of negative thoughts and emotions.
I'm not saying it's easy to come up against these things, I'm just saying it has nothing to do with Ashtanga, and everything to do with you.
Ashtanga always has, and always will be the relentless mirror that shows you all the parts of you that you try to hide away from off the mat. And sometimes, it can be hard to face that reality day in and day out.
And if you've decided Ashtanga isn't for you, of course, that's your right. But that's about you— not about Ashtanga.
I hope you enjoyed this article!
If you try this out let us know how it goes! You can either comment below or share with us on Instagram @ashtangatoronto. We'd love to hear how it's helped your practice.
And if you're in the Toronto area, or will be soon, take a look at our schedule and upcoming workshops to see if you can join us!