"Yogas Citta Vritti Nirodhah." Sutras 1.2

Yoga is the stilling of the fluctuations of the mind.
I'm an anxious person by nature. Without discipline, my mind runs amuck creating stories about this, and that. It spins trivial situations into worst case scenarios, that send me spiraling into the depths of my monkey mind.
And when this happens my first instinct isn't to "watch my thoughts, and be with the discomfort"
Nope.
My first instinct is to run away, "see ya later uncomfortable feelings!" Fight or flight, right?
But the beauty of this practice is it doesn't let you run away. It keeps you there on your mat to deal with whatever has presented itself to you. It forces you (in the best way) to face your shit, and sit with the discomfort and turmoil of the monkey mind.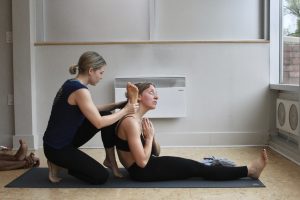 Now, I hated this at first.
And if I'm being completely honest, I spent a lot of time crying on my mat in the early days. I suppose I had quite the monkey mind, and a fair bit of discomfort to sit with. I resisted this at first, but once I surrendered to the practice, things shifted for me.
As my practice deepened, and I took an interest in the sutras, the words, "Yogas Citta Vritti Nirodhah" would ring in my mind each time I was faced with my monkey mind on my mat.
The goal of yoga, if we had to give it a "goal,"  is the stilling of the fluctuations of the mind.
And what I realized over time, was that we can't practice stilling the fluctuations if there are no fluctuations!
The monkey mind is a gift, and it is the foundation upon which our practice can grow and deepen.
Now, coming to this realization takes practice, so I thought I'd give you some tips this week.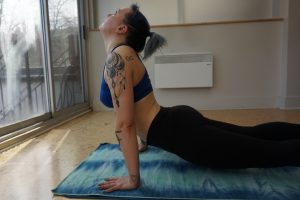 Here are three steps to mastering the monkey mind!
1. Notice the monkey mind
The first step is to notice the monkey mind. You don't need to do anything about it, just see it. Witness it. Be the observer of the thoughts. Let them be there, and notice how you feel. The more we pay attention to, and observe these thoughts, the more we can see that they are not us.
2.  Focus on the tristana
In Ashtanga, we have three points of focus: breath, dristi, and asana. After I notice my monkey mind, I do my best to bring my awareness to my breath. I've also found that really ensuring to use free breathing with sound is key. The more I can hear my breath, the more grounded I feel, and the more I can concentrate on it.
3. Practice
Just keep practicing. I remember doing a workshop with Eddie Stern several years ago, and he recalled going to Guruji several times for guidance with whatever problem he was having. No matter what the problem, he said Guruji's answer was always simply, and swiftly, "take practice."
Practice is the answer. You just need to keep showing up and keep watching your mind. Stay as consistent as humanly possible, and watch your life shift. It won't be easy, but I promise you it will be worth it.