July 6 – 11, 2020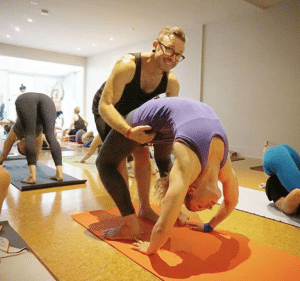 Join David Robson and Jelena Vesić at Ashtanga Yoga Centre of Toronto for a one week Intensive in the Primary Series of Ashtanga Yoga.
Please note that this is NOT a teacher certification course. Only R. Sharath of the SYC in Mysore, India, can grant Authorization and Certification to teach Ashtanga Yoga.
This week is all about learning the proper technique to practice Ashtanga's Primary Series. Each day will be based around morning mysore-style or led practice with David & Jelena. Afternoons will be devoted to workshops in:
Learning the traditional vinyasa count for the Primary Series
Philosophy and theory of Ashtanga Yoga and The Yoga Sutras
Functional anatomy
Sanskrit in the practice
Asana clinics
Date:
Jul 6 – 11, 2020
Times:
Mon Jul 6: morning Mysore, 1-4p Workshop
Tue Jul 7: morning Mysore, 1 – 4p Workshop
Wed Jul 8: morning Mysore, 1 – 4p Workshop
Thu Jul 9: morning Mysore, 1 – 4p Workshop
Fri Jul 10: morning Mysore, 1 – 4p Workshop
Sat Jul 11: Led Primary Series, 1 – 5p Workshop
Cost:
$850 + HST (13%)
Reading List:
Yoga Mala by Sri K Pattabhi Jois
Ashtanga Yoga Anusthana by Sri R Sharath Jois.
An Ashtanga Immersion Manual by David Robson will be included in the cost of the workshop.
Pre-registration is required. Full payment is required to reserve your spot in the course. There will be a 20% administration fee on refunds for cancellations made before June 29, 2020. There are no refunds or credits granted for cancellations made on or after June 29, 2020.